When and where on your site do your customers checkout, if at all? Or do they just view one page only to completely leave your site alltogether rendering you fruitless in your effort to drive online sales.
Here's a handy list I found on Sales funnels, check-out process, and actions to be taken for optimisation purposes.
A sales funnel is an upside-down cone, describing the process your website visitors go through from the moment they visit the site until they fulfill your goal. Every section of the funnel describes a step they go through. And by definition, every step holds a lower number of users because some drop-off and don't continue to the next step.
In order to improve conversions, all you have to do is focus on one section at a time and take the necessary action to increase the number of users who follow-through to the next step.
A tiny increase in the number of users who proceed from step #2 to step #3 for example, is going to lead to a huge increase in conversions.
Website Sales Funnel
A sales-funnel allows you to clearly visualize the numbers, identify your top leaking points and focus on improving them one by one.
You can easily create a sales-funnel using the data obtained from Google Analytics or any other analytics tool. You can even do it by hand if your analytics tool doesn't support this feature.
Simply define a few goals (i.e. "First Sale from a new customer", "New RSS subscriber", "Repeat Sale" etc), then go through your data for the last 12 months and build 12 sales funnels to display the data for each month.
It is important that you go through
all
the steps required to fulfill each goal. For example, if your goal is "new RSS subscriber", count the minimum time it would take for a visitor to your site to get to the RSS subscription page, identify the page-name and then look for data pertaining to that page.
Here's the sales funnel we built based on the data provided by our client:
Monthly Website Sales Funnel - 2007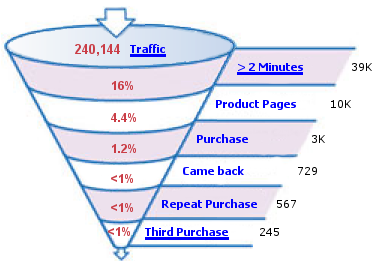 On a typical month, our client is scoring 240K+ visitors to their site.
According to our study, it takes a minimum of 2 minutes for a visitor to the site to place a new order.
* Our of 240K visitors to the site every month, only 39K (16%) spend enough time on the site to place a new order.
Action Item:
To increase the amount of time visitors spend on the site, we need to focus on more personalized, up-to-date and engaging content. Coupons, Seasonal items, User reviews and one-time-offers (OTO) are some of the things we should experiment with.


* Those visitors who stick around long enough to place an order, don't always end up on the product page (You have to view a product page before you can place an order). Some of them just wonder around the site for a few minutes until they leave.
Action Item
:
To increase the number of visitors who end up on product pages, we need every page of the site to link to products. "Hot Products", "Best Selling Products", "Clearance Products" and "Product of the day" work very well with similar sites.
* On average, only 1.2% of the total visitors to the site end up placing an order. Industry standard for this industry is 3%, which would be three times the company's online sales volume.
Action Item:
Simplify checkout process (switch to one page checkout), Collect email-address before the checkout process starts (to follow-up with customer if they abandon their cart), Experiment with exit popups.
* Less than 1% of the users who placed an order, came back to the site. Since one of the goals our customer had was to increase repeat business, it was very important for us to monitor how many visitors end up coming back to the site. It is a known fact that selling to an existing customer is 7 times easier (cheaper) than generating a new one.
Action Item:
Design an ongoing autoresponder Email campaign to entice customers to come back and place another order in exchange for a one time coupon that expires 60 days from the day of the first purchase.